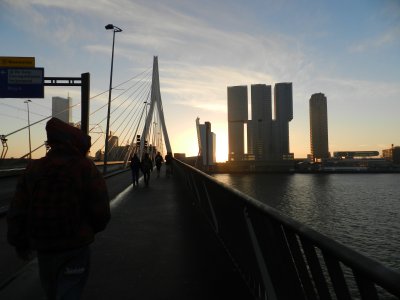 Photo: Karim Kalonji
I'm in Rotterdam, Holland, rehearsing for the last edition of Hip Cirq Europ'.
The city is bigger than I thought, with a lot of channels and bridges and modern architecture. It feels a little like a ghost city, not many people in the streets, at least not in the area where we live or train. But we're not really in the center I guess. I like being here and I like the cold weather after three weeks in the south of Spain. I never thought I would say that. The crew is nicer than ever, I just love to spend time with them and finally I feel that we're doing what the project is about; challenging ourselves with both the hip hop and the circus, especially with the one that is not our speciality. 
The Hip Cirq meetings are giving me so much energy and I don't want it to end!
So if you're in Amsterdam the 2 or the 3 of January, come and watch the show: http://www.krakeling.nl/ProgrammaDetail.aspx?id=160788
Or in Rotterdam the 4 or the 5 of January: http://www.maastd.nl/voorstelling/hip-cirq-europ/
If you're not, we have a brand new 10 minutes teaser from the show in Guadeloupe:
Hip Cirq Europ' - L'artchipel, Basse Terre, Guadeloupe
---
Andra inlägg