We are in the middle of two rehearsal weeks at the Laban theatre and I'm having a real slow Sunday today. Actually the first Sunday in my home since I came to London in the middle of January. My health is not the best, during a couple of weeks I've had an infection that travels around my body and it's very tiring. I know that what I need is some days of rest and apparently iron, but with five days to the premiere, what to do?
In spite of these problems I'm very pleased to inform you about next weekends events: On 11th and 12th April our show will be part of the Crossing The Creek family dance weekend at Greenwich Dance and Laban. This event will be indoors and is a great, weather-proof chance to preview the show before the outdoor tour starts in earnest!
The day includes all sorts of amazing performances and activities, suitable for families but not exclusive for people with little ones to enjoy, all ages welcome from 11am – 5pm. Our performances of Bench will be:
Friday 11th April
15:15 at Laban Building
Saturday 12th April
11:00 at Laban Building
14:45 at Greenwich Dance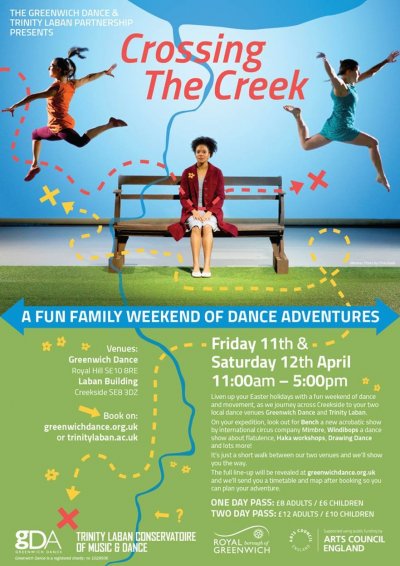 You're all very welcome!!!
---
Andra inlägg