I'm so exited to tell you about a new show that is under construction at this very moment!
It's a "punk –clown" show that I'm creating together with Los Errantes and more precisely Antoine Dutrieu & Rebeca FL.
After having toured Djeliya for two years now we felt ready for new challenges.
So what's this all about:?
"Three clowns meet and decide to go on a journey to reach a magical solution for being attractive to others. They find themselves in funny, absurd situations and with cooperation and little bit of luck, they manage to reach their destination. This turns out to be a very special place where everything they knew is turned up side down and they find themselves in a position where they can reinvent the world according to their own taste. "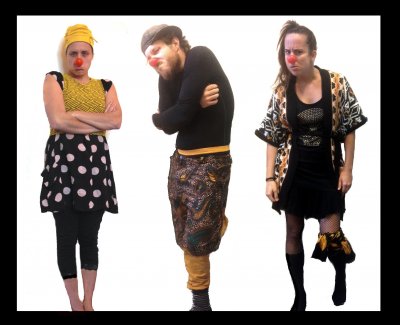 The new show is a show directed to a slightly older audience. It can be played for all but is not made for children under the age of 8. It is a 30 minutes long show that can be played in any space.
In the beginning of May we'll be playing for asylum seekers all around Stockholm with the amazing Clowns without borders Sweden!
---
Andra inlägg