My last day as thirty.
In some incomprehensible way my life has changed radically. All those things that you think will never happen for yourself has actually happened. I've found a home! Not a home with floor and a roof but a home that is safety and something that makes my life worth so much more, something that makes me happy every morning when I wake up.
I've found love. A love that took me with storm. A love that makes me dream about "forever". A love that gives me a context, security, challenge, joy. A love that tastes like chocolate cake, ice cream and fresh strawberries all together…
Think about all those days when I've sat backstage under a big top or in a theatre and thought, why am I alone? All those moments when I've flown, travelled by trains or dusty tour buses and thought, where am I going? All the training, the creation, the rehearsals, how wonderful has it been but at the same time, where will it take me? Who am I creating for? What does the audience mean, everything? Nothing? What am I really doing and when does the next dimension of my life arrive?
Tonight I'm sitting here writing and feeling something move in my belly. Small kicks on my right side. This is creation, this is life, this is something sprung out of love, this is future and connection and happiness. I can barely understand that you can get exactly what you dream of, but sometimes you do.
What a gift.
I'm in Santiago de Chile now for the second residency for "Djeliya". Tomorrow the training starts and today we planned and discussed in the shade of the garden. It's all so exiting!
It's true that ones again I flew alone over the Atlantic sea and here I'm sitting writing in silence, but it doesn't matter that much anymore, because I know I have a home. My home is my love and the life I am carrying, and where I am in the world is not as important anymore.
Back to "Djeliya", I didn't write anything here about the first two weeks of residency in Brussels, but if you've got Facebook look up Les Errants and watch some photos of the rehearsals. It was two productive weeks and the collaboration with Pelle was just as good as I expected and even better. Now I will try to update more often on the blog, juggle this between being the project leader, acrobatic trainer, "stand-in-director", babysitter… And pregnant. ;)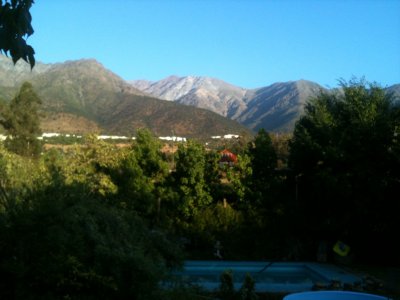 The view from my window.
---
Andra inlägg